SomatoEmotional Release Technique (SERTIP):
Mastering the Inner Physician
Workshop on CranioSacral Therapy - extend training
---
Are you hesitant to incorporate imagery or to engage your client in conversation during your cranial sessions? Are you unsure about how to begin the process, or perhaps afraid you lack the skills to follow up once you begin? Then this class is specifically designed for you. You may have heard Dr. John compare imagery and dialoguing to "talking to yourself". Essentially, SomatoEmotional Release Technique: Mastering the Inner Physician (SERTIP) helps you better understand how to successfully incorporate this powerful method into your sessions. This course integrates CST with what Carl Jung called "active imagination" - a way to bridge the gap between the non-conscious and the conscious. Along with imagery and conversation, active imagination can include dream work and art. All of these things can go a long way in helping you to know yourself better and in so doing, know how to help your client better. This class will focus on combining various Gestalt techniques from Fritz Perls, with Roberto Assagioli's Psychosynthesis ideas. You will learn how to actually become the objects that appear in your personal sessions, to recognize the foreground and background in a given scenario, to become more aware of being in the here and now. Most importantly, this experiential approach will help you identify and explore your various inner characters or "subpersonalities." Discovering and integrating the various characters that live within us can be vital in helping us become more authentic, understanding human beings. As course developer Stan Gerome has said many times throughout the years. "The most valuable tool a therapist can bring to a session is a more integrated therapist". We hope you join us in this fascinating and revealing journey in allowing the psyche to speak.
---
Elements
Explore techniques to bring your nonconscious into a more material existence Practice drawing your nonconscious images and dialoguing with them face-to-face Learn how to use sounding vowels and other internal vibrations, along with a 10-step protocol designed to enhance imagery and dialogue Discuss in greater detail Dr. Upledger's ideas on imagery and dialogue and the psychosynthesis map Practice using the significance detector
---
Instructor
Stan Gerome, LMT, CST-D
The workshop is taught in English with translation in Greek
Read his CV
I want to hold my place!
Fill in the Form of Attendence with your details on the right side of this webpage. Your place is reserved after the confirmation of the deposit 200 euros in the bank account or using the PayPal.
Piraeus Bank of Greece ΙΒΑΝ: GR11 0172 0720 0050 7208 7357 367 Swift Code: PIRBGRAA Address of the Bank: 4, AMERIKIS STREET, ATHENS, 10564 Holder's Name: ERGOTHERAPEIA I.K.E. Holder's Address: 15 CHEYDEN STREET, ATHENS, 10434
Prerequisite:
Successful completion of the SER1 workshop.
Time of Attendence
Τhe workshop begins on 9:00 am and usually ends by 7:00 pm. The first day we start on 8:30 am. On Sunday evening we finish on 4.00 pm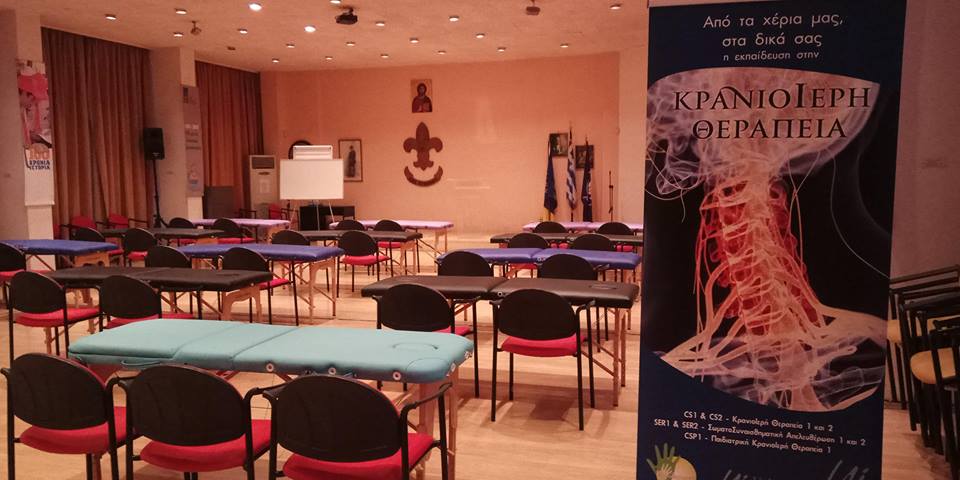 Venue
Greek Scouts' Association Ptolemaion 1, 11635 Athens
Fees
640 euros, for early bird registration and full payment valid until 30 days before the start of the seminar
740 euros, for payment on November 6, 2019 - December 5, 2019