SomatoEmotional Release 2
Workshop on CranioSacral Therapy - Level 4

---
In this workshop SomatoEmotional Release® techniques are integrated with various creative and dialoguing methods. With the emphasis on wholeness and self-healing, the goal is a comfortable, holistic mind-body approach to the resolution of problems and obstacles related to a person's progress and growth.
The class begins with a practical review of the techniques for releasing the throat and hard palate taught in CS2 and further developed in SER1. This encourages the expression and release of suppressed emotion, and is followed by an introduction to Psychosynthesis, Gestalt and Jungian psychology. By blending concepts from three schools of psychology with SER and CST the therapist learns techniques to help the person increase awareness of their "innerself". Class exercises are designed to strengthen the relationship between theconscious and non-conscious mind in order to increase self-awareness. The SomatoEmotional Release® process requires extreme sensitivity on thepart of t he therapist and a positive attitude and trust from the patient/client. The SER2 course gives you a greater insight into the person's issues, and techniques to fine-tune your dialogue skills.
---
Elements
• The history, key concepts and therapeutic process of Psychosynthesis, Gestalt and Jungian psychology • Practical application of the integration of Psychosynthesis, Gestalt and Jungian psychology with SomatoEmotional Release® and therapeuticimagery and dialogue • Review of throat and hard palate techniques for releasing vocal apparatus • Methods for soliciting an image, maintaining an unsolicited image and discovering an image's purpose • Skills for facilitating dialogue between the person's levels of consciousness • 10-step protocol for imagery and dialogue • Exercises in active imagination, archetypes, self-awareness and dialogue and facilitated imagery • Approaches to dreamwork • Continued focus on craniosacral rhythm as significance detector
---
Instructor
Stan Gerome, LMT, CST-D
The workshop is taught in English with translation in Greek
Read his CV
I want to hold my place!
Fill in the Form of Attendence with your details on the right side of this webpage. Your place is reserved after the confirmation of the deposit 200 euros in the bank account or using the PayPal.
Piraeus Bank of Greece ΙΒΑΝ: GR11 0172 0720 0050 7208 7357 367 Swift Code: PIRBGRAA Address of the Bank: 4, AMERIKIS STREET, ATHENS, 10564 Holder's Name: ERGOTHERAPEIA I.K.E. Holder's Address: 15 CHEYDEN STREET, ATHENS, 10434
Preparation
Successful completion of the SER1 workshop.
Required reading:
You should review SomatoEmotional Release and Beyond by Dr John Upledger
"SomatoEmotional Release and Beyond" by Dr. Upledger.
Price: 56,00 euros
---
It is recommended to read Getting to Yes by Roger Fisher and William Ury. Dr Upledger recommends that you also read The Selfish Gene by Richard Dawkins, and The Triumph of the Embryo by Lewis Wolpert.
Time of Attendence
Τhe workshop begins on 9:00 am and usually ends by 7:00 pm. The first day we start on 8:30 am. On Sunday evening we finish on 4.00 pm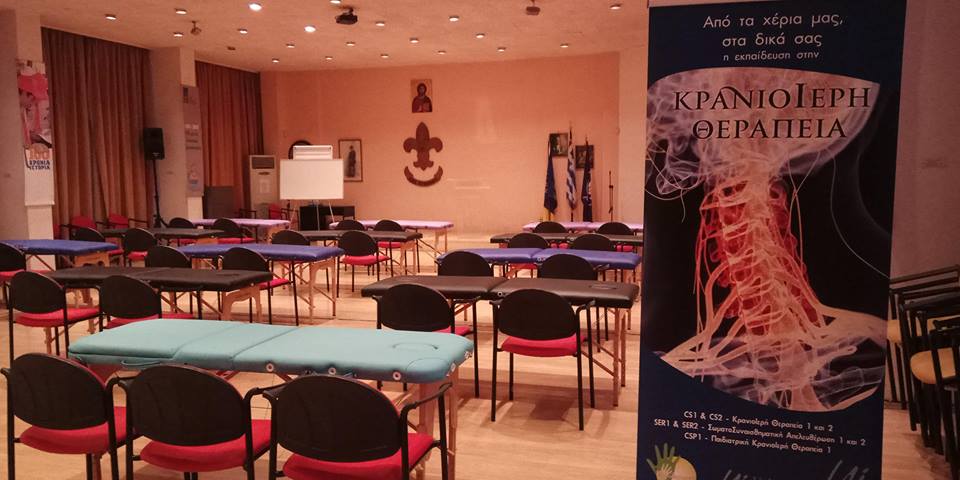 Venue
Greek Scouts' Association Ptolemaion 1, 11635 Athens
Fees
620 euros, for early bird registration and full payment valid until April 9, 2019
760 euros, for payment on April 10, 2019 - May 23, 2019