SomatoEmotional Release 1
Workshop on CranioSacral Therapy - Level 3

---
SomatoEmotional Release® is a therapeutic process that helps rid the mind and body of residual effects of trauma and associated negative emotional experiences, thereby supplementing the practice of CranioSacral Therapy, and advancing and expanding its usefulness. You will gain techniques for energy cyst and SomatoEmotional Release®. Such releases are often necessary to enable people to let go of the deepest cause of pain and illness. They enable application of Craniosacral Therapy to be utilised by the sufferer at deeper levels. By achieving improved listening and comprehension skills you will have increased understanding of verbal and non–verbal signals. This will be a means to encourage clients/patients to work co-operatively with you in improving health.
---
Elements
• Introduction to, and historical review of energy cyst and SomatoEmotional Release® concepts • Location and release of energy cysts • Techniques for releasing the vocal apparatus, to aid expression and release of suppressed emotion • Introduction to the idea and use of therapeutic imagery • Principle and practise of dialogue • Integration of imagery and dialogue techniques with the process of SomatoEmotional Release® • Introduction to vector/axis integration and alignment • Continued focus on craniosacral rhythm as Significance Detector (S.D.)
---
Instructor
John Page, DO, CST-D
The workshop is taught in English with translation in Greek
Read his CV
I want to hold my place!
Fill in the Form of Attendence with your details on the right side of this webpage. Your place is reserved after the confirmation of the deposit 200 euros in the bank account or using the PayPal.
Piraeus Bank of Greece ΙΒΑΝ: GR11 0172 0720 0050 7208 7357 367 Swift Code: PIRBGRAA Address of the Bank: 4, AMERIKIS STREET, ATHENS, 10564 Holder's Name: ERGOTHERAPEIA I.K.E. Holder's Address: 15 CHEYDEN STREET, ATHENS, 10434
Preparation
Successful completion of the CS2 workshop.
Required reading:
"CranioSacral Therapy ӀӀ , Beyond the Dura"
by Dr John Upledger
Price: 59,90 euros
---
"SomatoEmotional Release and Beyond" by Dr. Upledger.
Price: 56,00 euros
---
Time of Attendence
Τhe workshop begins on 9:00 am and usually ends by 7:00 pm. The first day we start on 8:30 am. On Sunday evening we finish on 4.00 pm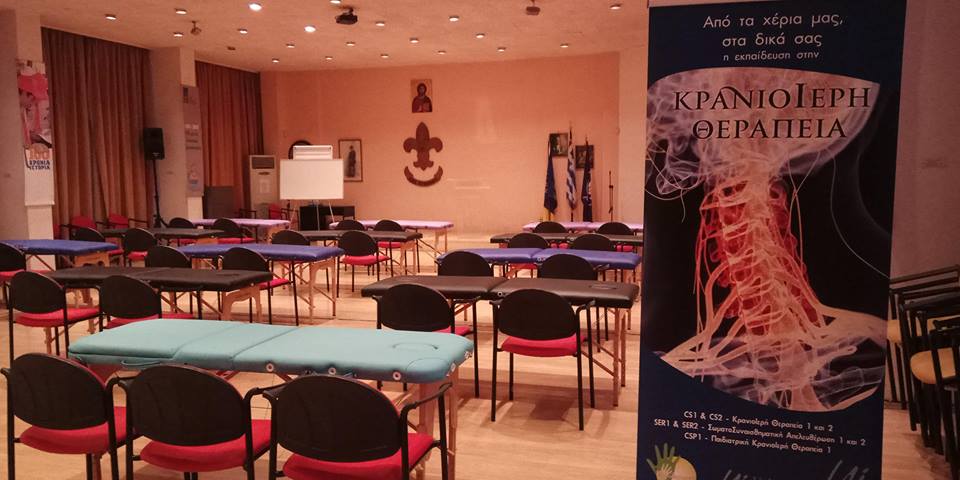 Venue
Greek Scouts' Association Ptolemaion 1, 11635 Athens
Fees
580 euros, for early bird registration and full payment valid until September 30, 2018
760 euros, for payment on October 1, 2018 - November 1, 2018